Finally, a Naperville web design company that won't take a bite out of your budget!
If you're ready to jump-start your business on the web, you need a website with teeth!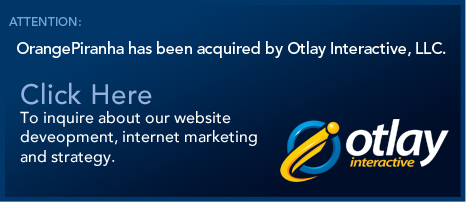 That's why we created Orange Piranha. A fresh new website design firm designed especially for small to mid-size business owners in the Naperville, IL and Chicago area. You see, we live and work in the Chicagoland area, too. So, unlike our silicon valley counterparts, we know what makes "The City That Works" work.

Orange Piranha offers small to mid-size business entrepreneurs a professional image backed by our results- driven Search Engine Optimization (SEO) to transform your concept into a successful money-making enterprise.

Since opening our doors over four years ago, Orange Piranha has grown into a full service Naperville web and marketing company offering a wide range of services on a nationwide level. These include:
Website designs and re-designs
Logo Designs
e-Commerce Solutions
Intuitive customer feedback solutions
Detailed visitor activity and statistics

Web Hosting
Search Engine Optimization
Online Marketing
Print and Graphic Design
Business Card Design
So what makes Orange Piranha better than
all the other fish in the sea?
Whether you are a Naperville small business owner who wants to take your products and services to a nationwide level via e-commerce, or simply an advanced hobbyist who wants to share your interests with others, we can turn your dream website into a reality at a very competitive rate.
To learn more about how Orange Piranha web development can get your ideas off the ground and on the web at a surprisingly competitive rate, request your free quote today!